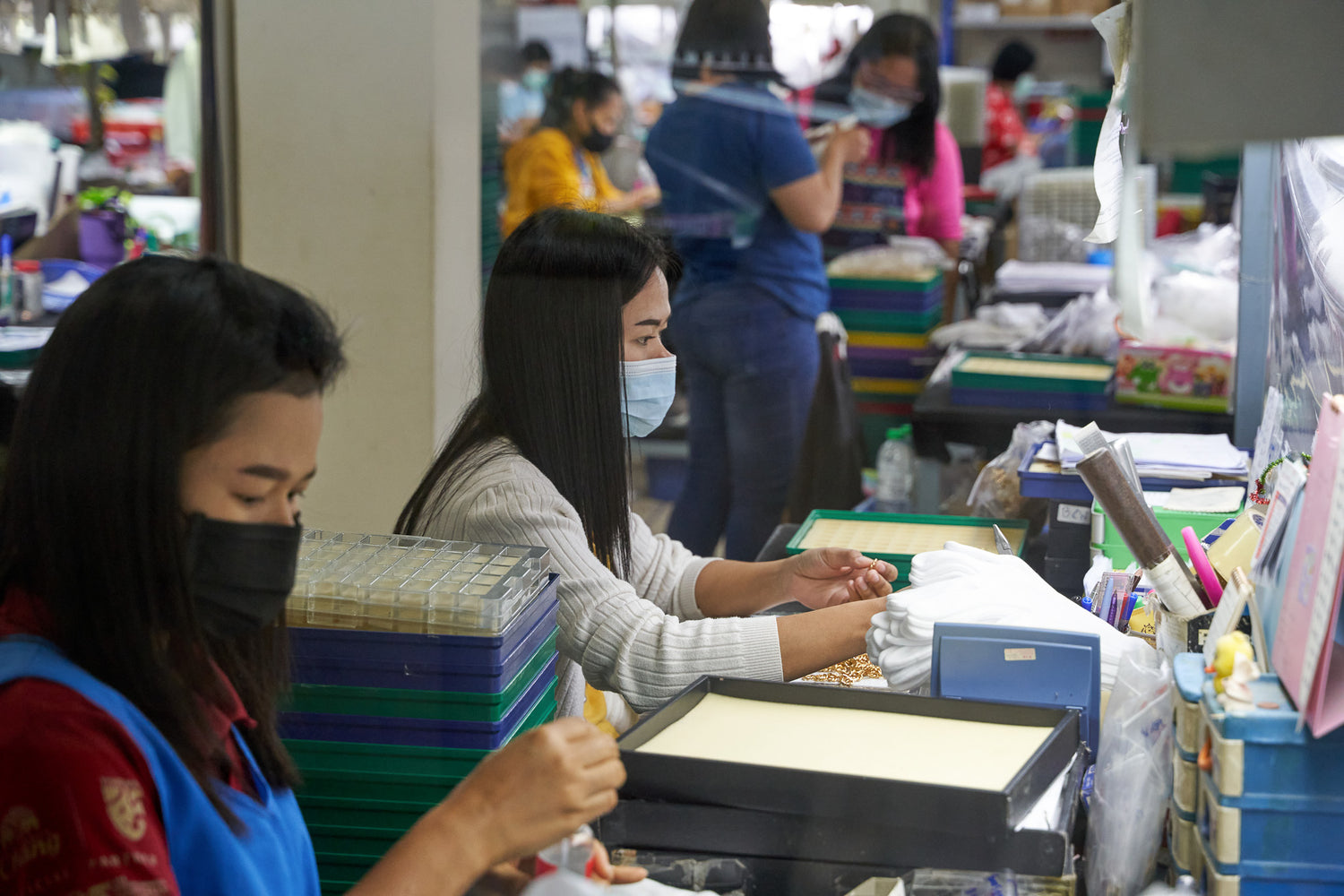 ABOUT OUR FACTORIES
Quality is extremely important to us and for this reason we only work with factories that employ exceptional craftsmen and produce ethically. We travel to Thailand every year to see the factories and conditions with our own eyes and to stay in close contact with our partners. These talented artisans make each item piece by piece. From selecting each stone to setting the stones by hand to polishing and plating our items. We cooperate with 4 different factories located in Bangkok and Hong Kong. Each partner has its own specialism and varies in size, structure and certification.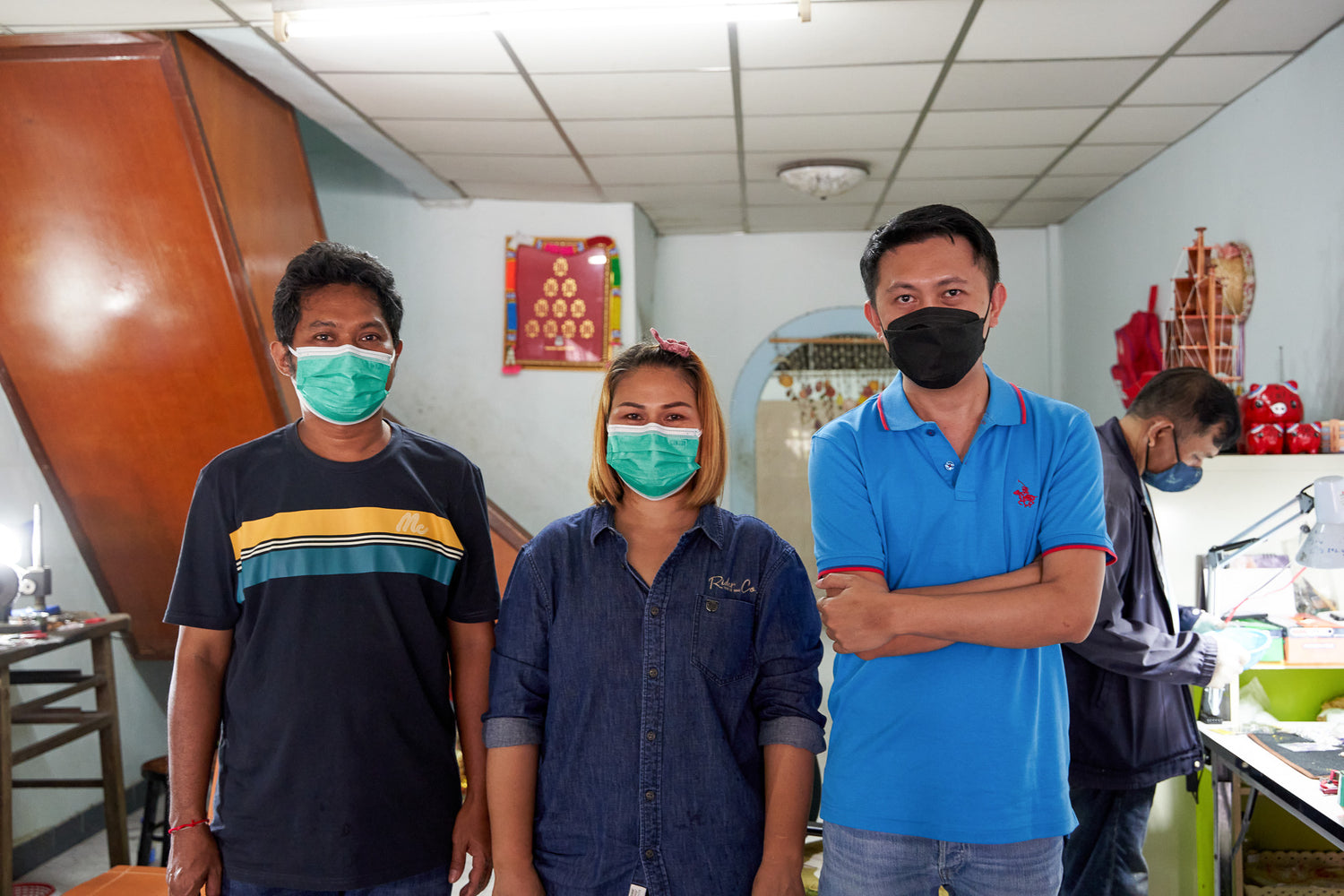 FAMILY BUSINESS IN BANGKOK
Our partner since the foundation of Eline Rosina. A small family business located just outside of Bangkok (up to 20 employees) specializing in stone setting and handicrafts. They produce our Atelier Collection by hand. Given the size of this family business, they are currently not (yet) certified like our larger partners are. The reason we still work with this partner is because we fully support the working conditions. We have been visiting this partner factory for years and maintain a very good relationship with the people who work there. Many of the employees have years of experience with large jewelery manufacturers and have chosen to work in a smaller context and as self-employed, sometimes even from home. This degree of independence in determining your own hours and assignments is something that we find very important and support.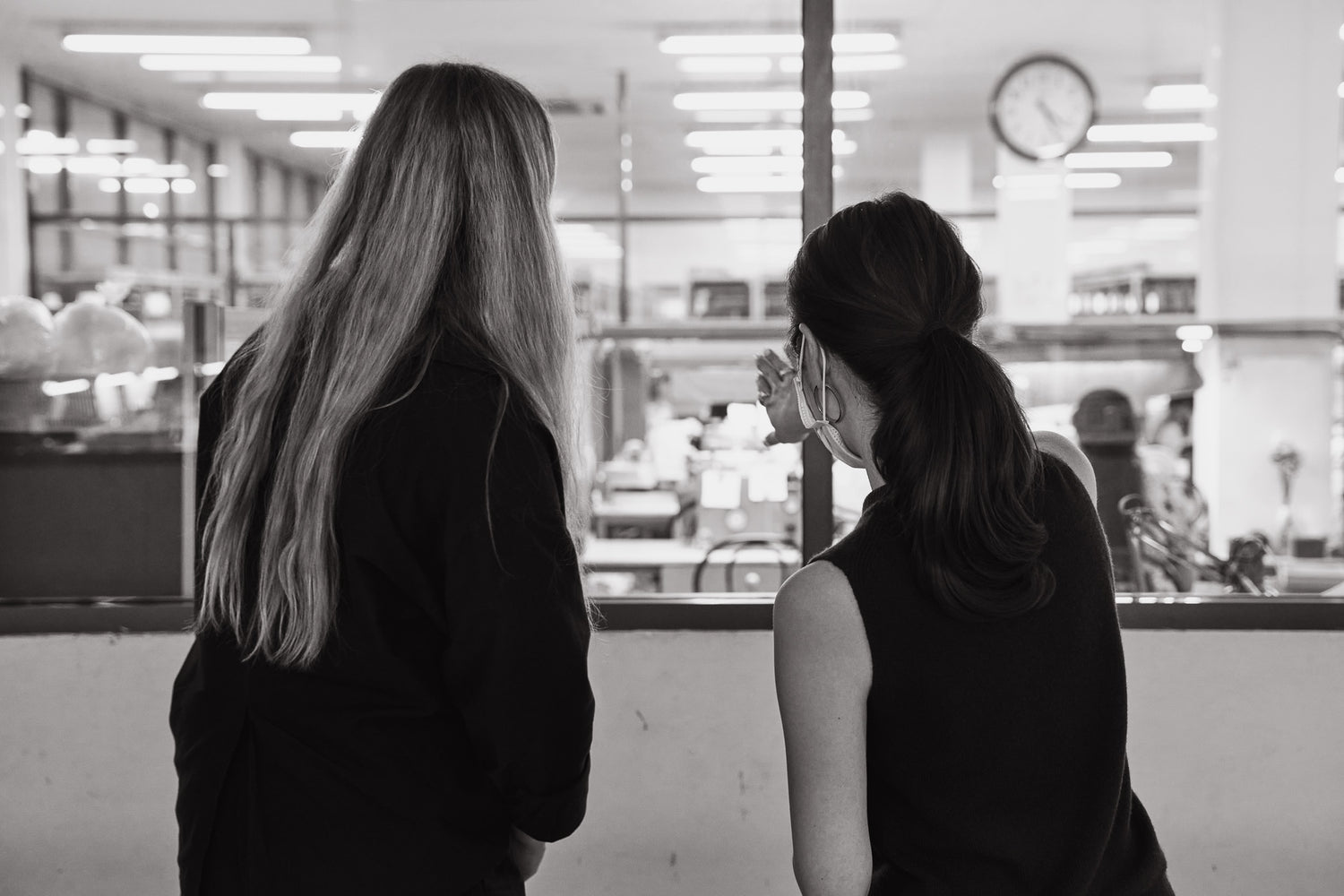 SPECIALIST IN STONE SETTING & PLATING
Medium-sized factory located in Bangkok. 400 employees, mainly women, work here. This partner is very progressive and focused on sustainability, from packaging to recycling and repairing their materials and products. They specialize in pavé stone setting and make gold vermeil and gold plated/sterling silver items.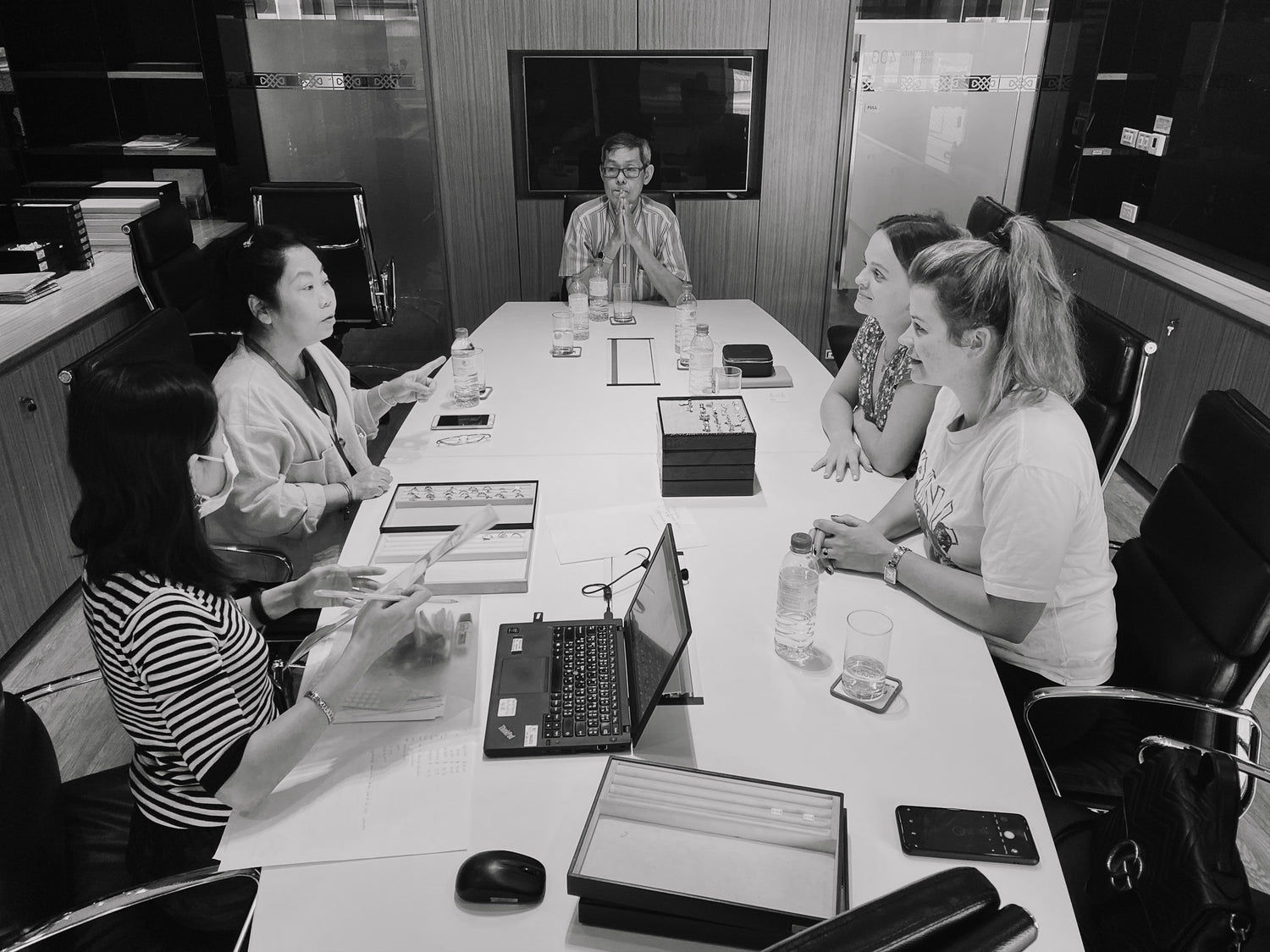 Expert in gold, diamonds & precious stones
One of the largest jewelry manufacturers in Thailand with over 1400 employees and RJC certification. They are very experienced in real gold jewelry with precious stones and diamonds (they even make the jewelry for the royal family in Thailand). Our 14K gold piercings and huggies are made here. This partner is also certified according to the Kimberley Process. This means that the diamonds they use are conflict-free.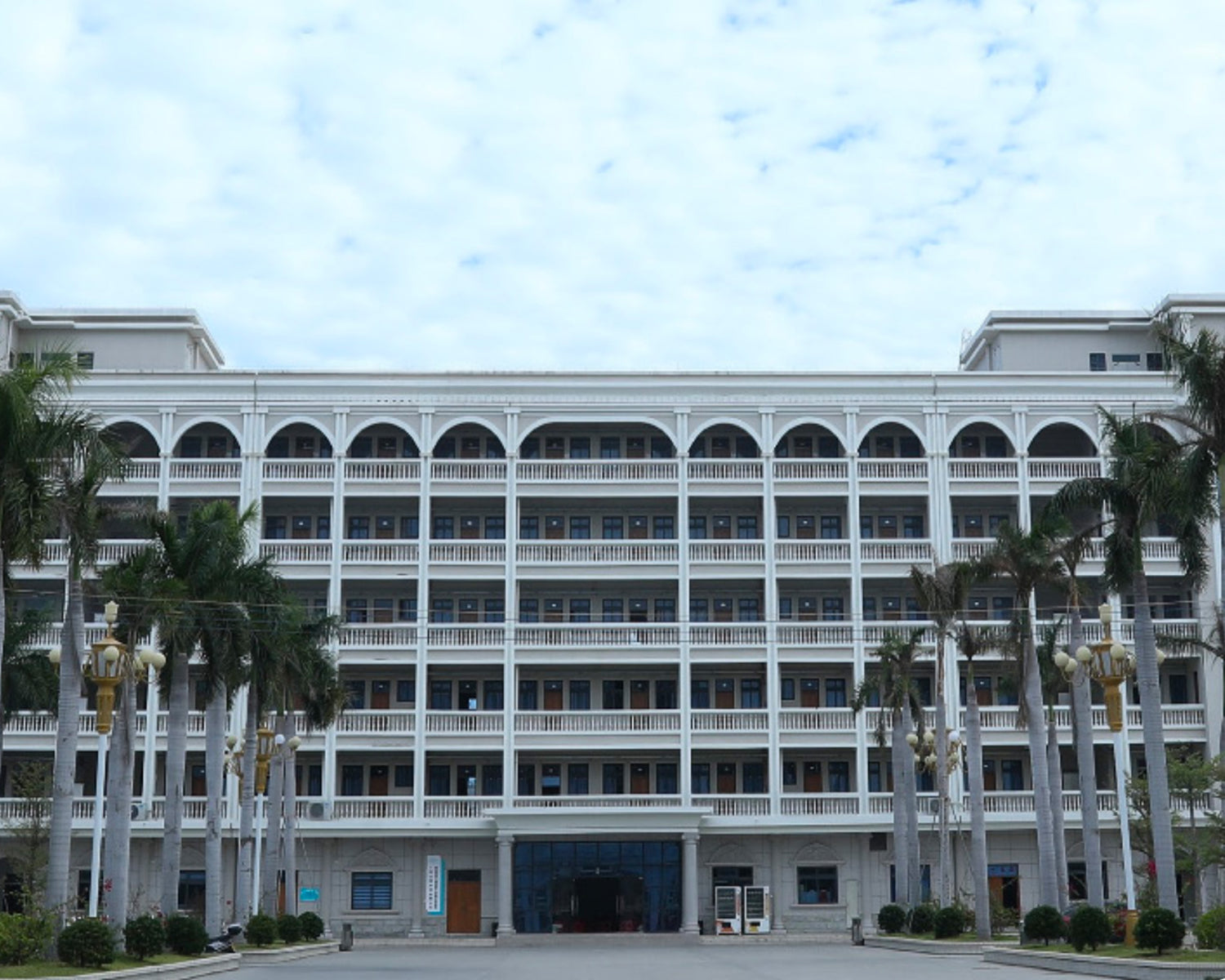 PARTNER IN HONG KONG
LARGE FACTORY LOCATED IN HONG KONG WITH MORE THAN 800 EMPLOYEES. THIS MANUFACTURER IS A CERTIFIED MEMBER OF THE RESPONSIBLE JEWELRY COUNCIL (RJC), KIMBERLEY PROCESS AND HAREAUS. OUR 14K GOLD RINGS ARE MADE HERE.